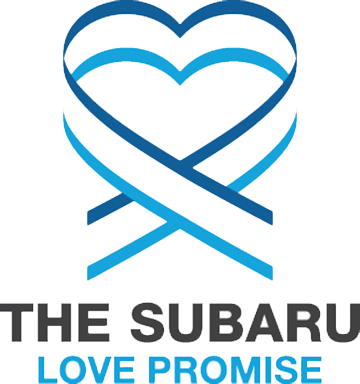 What is the Subaru Love Promise?
Subaru and our retailers believe in making the world a better place and the Subaru Love Promise is our vision of respecting all people. This is our commitment to show love and respect to our customers and to work to make a positive impact in the world.
How is Napleton Subaru dedicated locally to the Love Promise?
Our Love Promise can be seen in various partnerships with local charities and non-profits. We're grateful for the opportunity, not only to be a part of our community, but to serve it as well.
Rockford Resuce Mission, The Literacy Council, Rockford meld
Love Promise Stories from Napleton Subaru
Subaru and Napleton Subaru believe in making a positive impact on the communities in which we live and work. We uphold that belief through our Love Promise Community Commitment. Every month, we select inspiring stories from customers and partners from around our area who strive to support our collective commitment and feature them here
Baseball sponsorship bailout - Matt M
Our Fall ball Baseball team didn't have a sponsor this season. Napleton Subaru stepped up to the plate and literally hit a "Homerun" for the boys! Without Napleton Subaru Rockford these young boys wouldn't have been able to enjoy one of the most all American sports this fall 2021. We are very grateful to their generosity, Thank you.
---
Balls for the Kids - Clifford S
Napleton Subaru donated 210 basket balls, during their "March Madness" promotional event. They filled a Subaru with balls and had their customers sign them and guess how many are inside. All month long they talked about the balls being donated to Rockford boys and girls club.
---
Boys & Girls Club of Rockford feels the love - Clifford S
Despite this year's cold winter weather, Napleton Subaru "showed the love" and warmed the hearts of more than 50 Boys & Girls Club of Rockford members during the holiday season. By teaming up with Spectrum School of Rockford, Napleton employees secured more than 200 toys and coats and saved the holidays for young people who are at risk of falling through the cracks of our community. Members at the Club's Carlson, Blackhawk, and Fairgrounds units and its 21st Century Community Learning Center programs at Lincoln Middle School and Riverdale Elementary School were overjoyed to learn their holiday wouldn't be ruined by the coronavirus pandemic or economic downturn. Napleton's toy & coat drive instills hope, which might seem like a little thing, but Club staff would tell anyone that "a little hope goes a long way." Hope keeps young people coming back to the Club. Hope keeps kids attending school. Hope keeps young people from joining a gang and committing senseless acts of violence on our streets. Throughout the pandemic, Boys & Girls Club has tried to be adaptable and focused on meeting some of the most critical basic needs of its members and their families. Four clubhouse facilities are open for extended hours during the day to support students who need a safe place to engage in remote learning. Additionally, traditional after-school programming is still occurring in accordance with public health guidelines. This is critical as food insecurity, learning loss, and juvenile crime are worsening problems being magnified by the COVID-19 pandemic. Napleton Subaru's support through its holiday toy & coat drive and its Share The Love event is very much appreciated. It is only through their support and the support of other community-minded folks that significant community impact can be realized. Thank you to Napleton Subaru General Manager Geoff Feinblatt for his leadership. And lots of love for the Napleton staff and their partners at Spectrum School of Rockford for saving the 2020 holiday season and giving the gift of hope and opportunity to so many young people. Oh, and thank you to Santa Claus, too. ;-) Here's to a happier and healthier 2021!
---
Napleton Subaru 12 Days of giving - TODD T
We've partnered with Napleton Subaru, Subaru owners, and sponsors to bring services to 58 Winnebago Co pet owners in need! Be on the look out for our giving Subaru sleighs, live FB posts and all the feel good to fill your heart this holiday season. We are so excited to give you a glimpse of what we do to keep pets happy, healthy with their people and out of our municipal shelter! Love. Love. Love. This is what this volunteer Subaru owner of "Napleton Subaru 12 Days of Giving" shared! "We got to meet Bear and his family today. Notice how Bear is sitting for his Sit treat? He got a couple awesome new collars, a "rope" leash, and some toys. With this sturdy leash and a nice collar, this seven month old cutey is ready for long walks around the neighborhood.They were so thankful! Bear is a sweety and loves to be stroked!"
---
Toy Drive Extravaganza - Mary B
Children's Home & Aid will receive a load of toys as part of a month-long effort. Spectrum was selected by Napleton as its local nonprofit for this year's Share the Love campaign. Spectrum parents Mary Baldauf and Sonia Chaudhry facilitated this unique project for Spectrum students to participate with Subaru in giving back to the community. Santa and Mrs. Claus will be at the event, and children will be able to do crafts, drink hot chocolate, decorate cookies, and listen to holiday carols from Grace Lutheran School. The Olive Branch food truck will also be present to give discounts to anyone who donates a toy that morning.
---
Napleton Subaru 12 days of Giving Care for Pets - Todd T
Every day a new Subaru sleigh joins the sleigh team of Subaru's delivering and delighting for twelve days! Look for these special Subaru's around town visiting and delivering food, vaccinations, microchips and other necessities to pet families in need! Napleton teamed up with care for pets, Subaru owners, sponsors and supporters, to carry out our twelve days of giving mission! Together, we will help seventy-eight pet households. Join our mission to keep local pets with their families and out of the shelter this holiday season!
---
Napleton's Subaru + OSF Saint Anthony 07-10-19 - Michelle M
On July 10, the LLS Illinois Chapter and Napleton's Subaru had the pleasure of delivering 80 blankets to OSF Saint Anthony Medical Center For: Cancer Care as part of the Subaru Loves To Care program. These comforting gifts were accompanied by personalized messages of hope written by the customers and staff of Napleton's Subaru. This incredible act of generosity was warmly received by the OSF Saint Anthony Medical Center For: Cancer Care staff who were thrilled to distribute these comforting gifts to their patients. LLS is proud to partner with Subaru to spread hope, love and warmth to those fighting cancer, across the country and right here in the Rockford community.
---
6th Annual Nik's Home Run - Brian Lyngaas L
On a rainy Oct. 14, 2017, at Rivets Stadium, in Rockford,IL, Volunteer Coordinator Linda Granneman and over 40 Volunteer CourseMarshals, including myself, Brian Lyngaas, stood by my 2015 Subaru Legacybefore taking our spots for the 6th annual Nik's Home Run 7K race.This event also included a 1.5 mile Fun Walk, Silent Auction, and Virtual Run.It's the main fundraiser for Nik's Wish, the Nikolas Ritschel Foundation, whichis a 501(c)(3) charity. Nik's Wish is for young adults (ages 18-24) fightingcancer who are too old for Make-A-Wish. In spite of gloomy weather forecasts,we were blessed with a prolonged break in the rain, which allowed the race,walk, heartfelt speeches, and the awards ceremony to be completed. The rain thenresumed coming down in buckets. A record turnout from the 415 registeredparticipants were cheered on by over 110 volunteers. Many guests also came justfor Grammy's Silent Auction. Though we fell short of our $75,000 goal to fundthe 15 Nik Wishes in progress, we came close. In 6 years, Nik's Wish hasfulfilled over 72 wishes, providing these brave young adults and their familieswith respite vacations (Disney), unique experiences (swimming with dolphins)and/or cherished items (an iPhone). Such a break from grueling treatment regimensrenews hope and strengthens faith to help them get through their difficultcancer battles. Visit Nik's website for pictures and stories about these courageousyoung adults: www.nikolasritschelfoundation.org.
---
PAWS Humane Society FurBall Contributions - Susan G
Thank you so much for your continued generous support of PAWS Humane Society. We have appreciated your attendance each year at our largest fundraiser, FurBall. Each year we look forward to seeing your corporate table at the event. PAWS is completely funded by the donations of our community, attendance at events, and sponsorships from many outstanding businesses such as yours. With your support we were able to spay/neuter over 1600 animals this year through our low co-pay assistance program. We were also able to adopt 500 dogs and cats through our foster-based adoption program. PAWS also supports over 300 local classrooms by sending the "Kind News" to teach humane education to the children in our community. The money raised at this year's Furball was used to support these three programs and to help us plan to include more services for our community's animals in the upcoming year. We sincerely thank Napleton Subaru for your support. With your help, we can continue to help the many animals in need in our community. Sincerely, Sue Golan Board of Director's
---
PAWS Humane Society - Sue G
Thank you so much for your continued generous support of PAWS Humane Society. We have appreciated your attendance each year at our largest fundraiser, FurBall. Each year we look forward to seeing your corporate table at the event. PAWS is completely funded by the donations of our community, attendance at events, and sponsorships from many outstanding businesses such as yours. With your support we were able to spay/neuter over 1600 animals this year through our low co-pay assistance program. We were also able to adopt 500 dogs and cats through our foster-based adoption program. PAWS also supports over 300 local classrooms by sending the "Kind News" to teach humane education to the children in our community. The money raised at this year's Furball was used to support these three programs and to help us plan to include more services for our community's animals in the upcoming year. We sincerely thank Napleton Subaru for your support. With your help, we can continue to help the many animals in need in our community. Sincerely, Sue Golan Board of Director's
---