From Inspection and Repairs to a Simple Oil Change, Napleton Subaru Specializes in Top-Tier Auto Service
We at Napleton Subaru know how durable, reliable, and long-lasting our Subaru vehicles are, but that's only because of the fantastic service they receive. Yes, even the most durable vehicles need a little TLC now and then, and because of that, the Subaru experts at our Rockford Auto Service Center are ready and waiting. We staff trained technicians who know your Subaru like the back of their hands, and are dedicated to reviving it to its highest level of performance, handling every repair from the simple tune up to new brakes, fluids and everything. Each repair is undertaken using only genuine Subaru parts specifically designed for your model. In short, your vehicle will be taken care of the right way the first time.
But, like every other part of our dealership, we want to create the easiest and most stress-free environment possible for you. That's why we offer a high level of convenience from your ability to schedule your auto service appointment right here on our website to the customer lounge and loaner car services.
Come Visit Our Rockford Subaru Dealership Today
No matter how long it's been since your last appointment, it's never too early or too late to get your Subaru brought back up to its peak level of performance. So, schedule your Subaru's service appointment today and come visit our dealership! We proudly service all of the Subaru vehicles in Rockford, as well as the Subaru vehicles in Freeport, IL and Beloit, WI.

Chad Hauser
Service Manager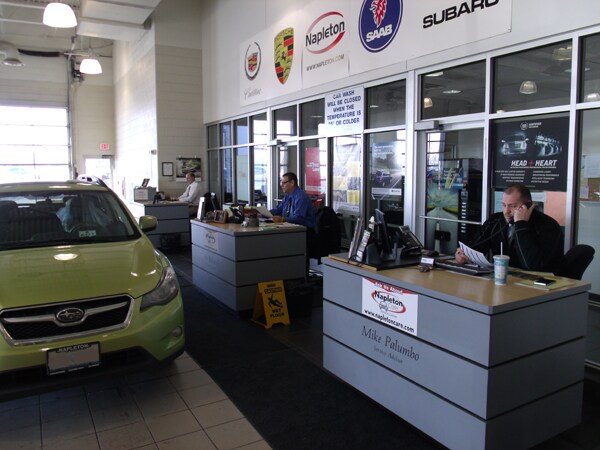 Come in to Napleton Subaru for Service and let Mike, Ryan or Shaun help you
with all your vehicle needs.